Calendar is a advertising product with incredible possibilities.
Well prepared calendar became a great symbol of company, which can be present in front of client's eye in 365 days of year.
Our offer of advertising calendars is very extend. Until now we have had opportunity to produce: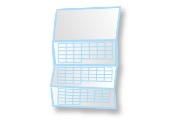 Three-pices calendar – it is compose from few pices. Back it is a one sheet of cardboard, convex head which is glued to upper part of back and calendars which are also glued to back, below head. Head in our version is equipped in 2,5 mm thick hard cardboard. Similar like in any other case we can refine head in Gloss or Matt foil, UV varnish or Hot Stamping. Calendars we print on uncoated offset 80g paper. Back are printed in according to customer wishe's, most frequently on a cardboard with a weight of 250/300 grams.

Multi-board calendar, is a product which consisting of a multiple boards, which are printed one or two sides. The most popular options are seven boards printed one side, or 13 boards printed two sides. We print Multi-board calendars on coated paper 170g or higher, then we connect boards with the spiral. Most popular format is b3, b2, a3, a2. Analogical to the three – pieces calendar, Multi-board calendar perform advertising role 365 days in year. Given the fact, that a large number of cards are not a cheapest options, but large number beautiful graphics printed on boards attract eyes all year round.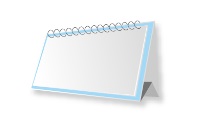 Desk calendar have form of the house. Base of Desk calendar is made from cartboard and calendars blocks are printed on uncoated offset paper which are glued to base. All of this are bind together with the spiral. There is also an economic version of this calendar, which is create from only cartboard printed one side and refine with the gloss foil.
BBiuwary also called Desk Planner, it is a very practical solution, which is appreciated by people who like to have a much space for notes. This calendar, honestly speaking is a block of uncoated offset paper, with the size of poster with a annual calendar and large number of pages. Planner are printed on one side, and the most common format is b4, b3 a3, a2.
.
We invite to contact. Inquire regarding calculation should be sent to email: biuro@drukarniapapillon.pl
Experienced crew and a large machines park guarantee short completion date.